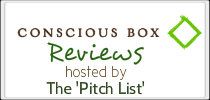 Conscious Box
is an awesome monthly service that delivers ethical and sustainable businesses to your doorstep. One of the points of their mission is this:
The Importance of Discovery
We emphasize discovery for a number of reasons. Discovery leads to enlightenment, stronger understanding of others, and better personal and planetary health. By finding conscious businesses that support your personal needs, you can do a lot for the world just by making responsible shopping decisions.
I was blown away by the July Conscious Box I received. There were so many awesome things in there including:
Aura Cacia 54 card Aromatherapy Deck amd a Sweet Orange 100% Pure Essential Oil -My hubby and I are just getting into oils so this was PERFECT timing and a great source for our research.
St. Claire's Organics Peppermints - So yummy and great for keeping in my purse so my hubby doesn't steal them all!
All Natural Face Vegan Eye Shadow Lemon Ice
Powbab Baobab Superfruit Chews - My hubby ate this right before going on a bike ride and working out. He loved the flavor and felt a nice burst of energy.
Naturally It's Clean by Enzyme Fresh Home Floor Cleaner
Materne GoGo Squeeze Apple Mango Applesauce On The Go- My little girl loved it and didn't even make a mess with it which would be great for car trips.
Mighty Leaf Iced Tea in Calypso Mango- Make a whole pitcher!
Jadience Herbal Formulas Muscle and Joint Therapeutic Cream
Tea forte green tea bags in cherry marzipan, honey yuzu, cucumber mint
SunWarrior Warrior Blend Raw Protein Vanilla - Absolutely delicious and blended seamlessly with our smoothies.
Madhava natural sweetners organic agave nectar and organic coconut sugar - I love trying new sugar alternatives. We buy the agave already but the coconut sugar was new to try. =)
Next month will be the August 'Back to School' Conscious Box! It's going to have delicious, nutritious snacks, some great daily alternatives, and tons of other really fun stuff that everyone will enjoy, making it an AWESOME gift for all students, including K-12 and college. And yes, it's great for students
and
non students alike, so you can gift it to anyone! Just remember, you've got to order before the 6th of the month! This is the only legitimately healthy care package we've seen this year, and they're going fast!
Facebook (
https://www.facebook.com/consciousbox
)
Twitter (
https://twitter.com/ConsciousBox
)
Pinterest (
http://pinterest.com/consciousbox
/)